FIRST things first
—> GET THIS COURSE AND LEARN THIS SHIT PROPERLY!
OK you cheap bastard lets get into some more money making merriment 😉
What the F am I going to sell on Amazon?
Well I have 2 awesome product ideas for you, one in the "get laid" niche which, BTW, is a brilliant niche to be in and the other in the I'm better than you because I'm healthy and organic niche.
Most things are in the get laid niche but some more than others, the "I'm better than you because I'm organic" niche is also very good though.
I want to get laid
I want to be different
I want to make money (so I can get laid)
I want to differentiate myself
etc etc
All brilliant niches and there are many many more, I could do 2 days on this but instead i'll talk about making money on Amazon instead.
(nb – I love Psychology, probably because I'm so messed up myself, still that's a conversation we must have over a bottle of red wine not here.)
So onwards to financial nirvana!
What To Sell On Amazon Product No 1



Cacoa butter
What the heck is that?
It's the stuff they use for white chocolate, it's amazing
PLUS oil and fat is no longer bad, at least not the good oils and fats.
So the market is with you, the government is with you and the press is with you.
Market forces conspiring to get rid of sugar and get fat and oil back in…
So here's the skinny
Sugar = bad
Fat = good
That's a massive tip if you're smart enough to spot it…
Let's see how much cash we can make from cacoa butter.
Well currently on Google there are 5000 searches a month:
The average cost is $15 for 250g
You can buy wholesale at $15 a KILO!
http://www.maretai.com.au/raw-organic-cacao-butter.html
Meaning you can sell at $15 and make over $10 profit a pop
not too shabby 🙂
Onwards my cash hungry friend to…
What To Sell On Amazon Product No 2

MCT oil
This has become VERY popular thanks to 2 people.
Here's the search data on Google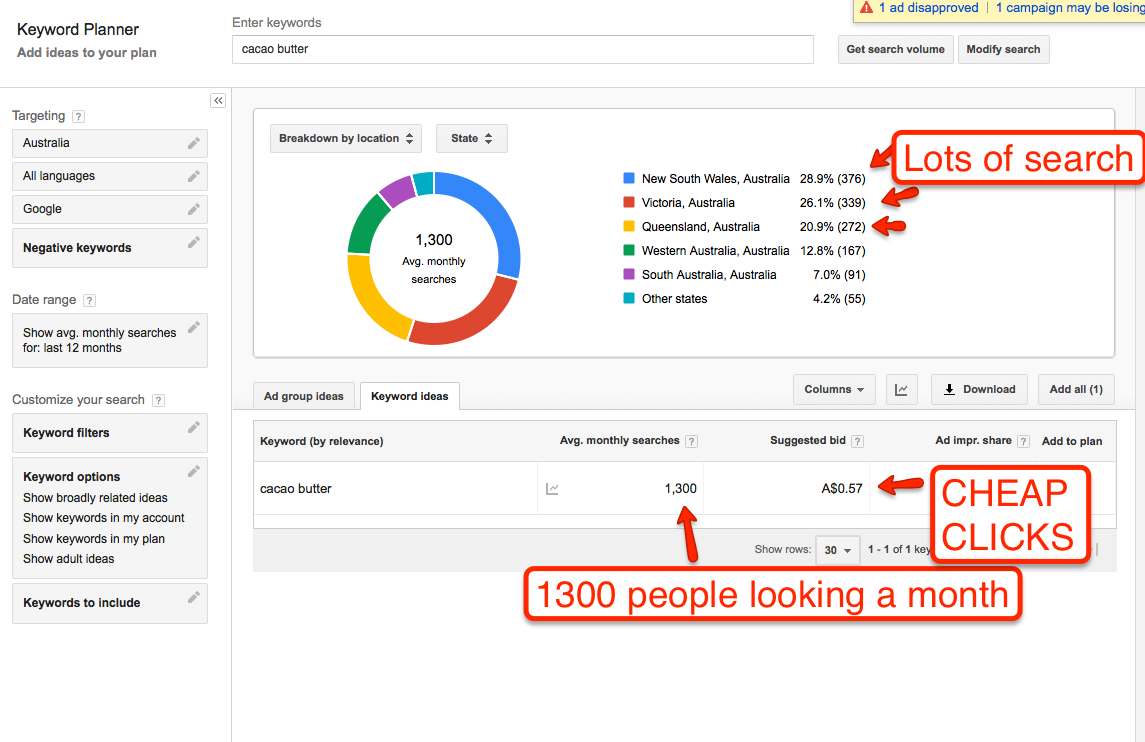 VERY TASTY!
It retails for $15 for 250ml
You can buy it from here for $99 for 5KG!!
Think you can make a profit on that?
If you don't, shoot yourself, you're a lost cause!
Both would sell brilliantly on Amazon AU
Not sure how to set up your account and get this puppy happening?
It's tells you exactly what I do, it works.
Neil