If You're An Australian or New Zealand Business Looking For A Reputable SEO Company That Delivers Real SEO Results – Then Please Read The Following Testimonials From Real Businesses Getting A Real Return For Their SEO Investment[spacer]
One of them has over 500 #1 keyword rankings in Google Australia in an incredibly competitive market space…And they're beating NAB, ANZ, Westpac & CommBank…500 #1 positions!!
….And then read on to discover 11 different case studies where we've successfully helped to rank businesses so they now dominate their space in the search results –

this delivers to them a constant stream of highly qualified and ready to buy customers 24/7 like they've never had before…
---
Justin Rampono – Owner,  The Currency Shop | www.thecurrencyshop.com.au
"I just don't know how Mike does it. He's an SEO weapon!
We're up against the biggest financial institutions in Australia. NAB, ANZ, CommBank, multi-billion dollar transfer companies and yet we're beating them.
Mike and his team have placed us at the very top of Google for hundreds and hundreds of keywords. At the last count, we had 500+ #1 keywords positions in Google…500+!!!!
RoarLocal have to be the best kept secret SEO team in Australia. 
Do yourself a favour and hire this team before your competition discovers them."
Justin Rampono.
---
Aaron Green – Director, AG Insurance Services Pty Ltd | www.ag-insurance-services.com
[spacer]
---
Carly & Tim, Greenhaven Funerals | www.greenhavenfunerals.com.au
[expand link_align="center"]"We were introduced to Mike and his team in late August 2014 through a mutual contact that I had been discussing some of our SEO challenges with.
We are a family owned, funeral home based in the south eastern suburbs of Melbourne who compete with the larger corporate funeral organisations, as well as other smaller family-run funeral homes in providing funeral care to the loved ones of families throughout Melbourne.
What I really appreciated about Mike from Roarlocal was the time that he took to talk to us about the unique and sensitive nature of our business.
He tried to gain a complete understanding of what had worked and what hadn't worked in promoting our business on-line, before he undertook a full assessment of our website and current situation. Within two weeks Mike had provided a report analysing the weaknesses and downfalls in our current SEO strategy.
He formulated a proposal to improve our situation and profile on the internet with a mix of SEO Work and Revising our Google Adwords Strategy as well. That was mid-September.
Competition for our key words is fierce and many of our competitors have significantly higher budgets than we have to spend on SEO and Google Adword campaigns.
Our business has survived and thrived over the last 18 months on the back of our website, our internet presence and profile and word of mouth referrals, SEO has been a small part of our success but we definitely wanted to use this strategy more effectively in the future to enable our future customers to find us.
Over the past three months, we have seen a marked improvement in the way we rank in the major key word searches that our clients use to look for the type of services we offer. Every month, Mike has been able to provide us with a detailed analysis of how we are improving with our rankings and has suggested different strategies that we haven't used before to turn visitors to our website into customers.
This week our report showed that when individuals search on the key words for our business, our funeral home shows up on the first or second pages for many of the key words that are used to fine us.
It has taken Mike and his team 3 and half months to achieve what our previous SEO service provider could not do in 12 months.
A big thank you to Mike and the team at Roar Local! We are absolutely thrilled at the results you have achieved for us and look forward to working together in 2015 to achieve more great things." Carly & Tim, Greenhaven Funerals | www.greenhavenfunerals.com.au[/expand]
---
"Successful Resumes NZ Ltd has been using Roarlocal for two months out of a programmed six month SEO improvement programme.
We have already seen improvement in our key search term rankings and this in beginning to show up as increased web traffic and customer enquiries.
Mike has followed through on everything he said he would."
Denis Odlin, Director, Successful Resumes New Zealand | www.successfulresumes.co.nz
---
"My previous SEO company managed to get my site penalised in Google due to some poor, cheap and questionable practices which means we dropped dramatically in the rankings.
Our site visits and business almost dried up completely overnight and we had to resort to paying for expensive Adwords just to stay in business.
Mike and the team at Roar saved my site, cleaned it up and brought it back from the brink.
We now have 12 highly searched for key terms in the top 5 of Google, some of them are number one in Google. These bring us valuable paying clients every single day of the week.
Do yourself a favour and hire this team."
John Little, Owner of Successful Resumes Worldwide | www.successfulresumes.com.au
---
"Our business is less than two years old and in a very short time, ROAR Local's SEO strategies and work has had a massive effect on the amount of work coming into our business, Alba Locksmiths Ltd.
The SEO work done by Mike and the team has, in only four months, more than doubled the amount of work that our business carries out each week. This is because our website was nowhere in Google and after Mike's SEO work we are now high up on the first page for many highly searched for keywords and terms.
One of our peers commented to us that he could not believe how prominent we are in Google and asked us how we did it so quickly!
As a bonus, ROAR Local's SEO work has brought in some good customers from business sector areas that we previously had not targeted.
If you truly want to grow your business, then in our opinion, you can't do better than to engage Mike Oldroyd and the team at ROAR Local to get your website noticed and found with their SEO strategies.
ROARLocal are our 'Secret Weapon'!"
Wayne & Susie Green, Directors of Alba Locksmiths Ltd | www.albalocksmiths.co.nz
---
"As a copywriter, I know the incredible benefits that quality SEO can bring to a business website.
I am fussy about the SEO person I use myself and would not go past ROAR Local.
I have dealt with their Melbourne representative, Mike Oldroyd, for several months now and have been completely impressed by his genuine expertise.
 With ROAR local working for me on my own copywriting site, I've seen my rankings improve – onto page one of Google and ahead of my competitors.
 Mike is always really clear with his reporting so I know exactly what's going on and I now refer him and ROAR Local to my copywriting clients too.
 SEO that really works makes marketing a business so much more effective.  It's helping my business grow and I'm looking forward to my best business year yet in 2015."
Claire Halliday – Chief Writer, Copy Queens | www.copyqueens.com.au
---
"I've been using ROAR Local for a little over a year now and the results have been tremendous.
I spent a long time trying different ways to market my business and generate leads with little success while spending lots of time and money.
Once I found ROAR I decided to take the leap and haven't looked back.
It didn't take them long to get my pages ranked highly and it was great to see my profits increase every month as the page continue to rank higher through search engines.
Another benefit is not having to worry about the fast changing SEO market, this was something I was spending countless hours trying to learn about and do myself with little success.
Having a great team taking care of all SEO allows me to just focus on doing what I do best: running my business!
Seriously, I've never had so many quality leads & enquiries. I'm busier & making more band bookings than ever.  Finally the people visiting my website actually WANT what I have to offer & they're spending money with me.
The SEO service and strategies provided by ROAR Local have transformed my business."
Anthony Levchenko, Owner Blue Avenue Entertainment | www.blueavenue.com.au
---
 "I have been using Roar Local for nearly a year now and have been very impressed. 
I have six websites related to hospitality training.
They all sit at the top of Google Page One for the searches I wanted. 
Roar got them there a lot quicker than I thought and have they have maintained this status since hitting the top.
Working in hospitality I also always look for good service and they have certainly provided this. Communication is prompt, effective and to the point. 
I have exceeded my projected sales from my websites as a result and now have the capital to branch out into other sectors. 
I will be using Roar to do a similar job for these new websites."
 Ben Trembath, Owner Best Restaurant Training
---
Who does the SEO work at ROARLocal?
First of all we guarantee that absolutely 100% of all the SEO work we conduct for our private clients is done in-house here at ROARLocal.
We don't outsource or leave this important work to others. We have two SEO experts at ROARLocal who will create and apply the SEO strategies that are required to rank your website.
Michael Oldroyd is based in Melbourne and splits his time between two businesses – He helps his friend's business called Impact Data and also runs the Australian branch of ROARLocal. Michael fell into the world of SEO when he found he was really struggling to rank his own personal websites. He found there was so much opinion, hearsay and total confusion on what SEO strategies really do work and which ones don't.
So, Michael simply set out to discover exactly what Google was looking for when it ranks a website at the top of its search results. Michael discovered that if you forget all the SEO BS and simply give Google what it's already looking for then Google we reward you by ranking your website.
He rigorously tested this strategy on his own websites and the results were almost instantaneous. In very short order every one of his sites dominated the search rankings and they remain there to this day. Michael now applies these exact strategies to all the ROARLocal private clients who wish to dominate their market place.
_____________________________________________________
Matt Scott works out of the ROARLocal UK office. He's consulted at the highest levels for medium and enterprise corporations as an SEO expert for over 7 years now.
The Google search rules are changing all time and Matt prides himself in knowing what changes are taking place, and when, so the ROARLocal private clients are well ahead of the pack.
Matt likes nothing more than helping brilliant entrepreneurs make a ton of money from ranking page 1 of Google and having a hand in helping them to get there.
When you hire ROARLocal to look after your SEO you get both Matt and Mike looking after and employing their expert strategies. They'll lift you in the rankings and get you to where you want to be, whilst at the same time bringing you the volume of visitors and new customers you crave.
 With Matt and Mike at the helm and looking after your SEO you seriously have one of Australia's best kept SEO secret teams working for you. Hire them before your competitors do!
---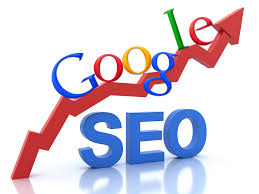 See below for absolute and total proof that we can rank your business in Google
(11 Real Business Ranking Examples for you to view and scrutinise)[spacer]
We strongly advise all our clients to look at Search Engine Marketing because the ideal prospects you want to attract to your website are already actively searching for the products or services you supply.[spacer]
They're already in the buying cycle, which means the time to sale is a lot shorter than other marketing channels.
If you want quick sales and faster conversion times from inquiry to purchase….then it doesn't get much better than this!
Use our Search Engine Optimisation Solutions to:
Help you to rapidly attract dozens, hundreds, or even thousands of new customers or clients.[spacer]

Draw to you the very people who are already looking to buy your products or services.[spacer]

Get new 'ready to buy' customers contacting you 24 hours a day, 7 days a week.[spacer]

Give you the SEO success you've been looking for.
Why do you need a SUCCESSFUL SEO company to look after your SEO strategy?
There are many SEO companies out there you could choose from. In fact most business coaches and web design companies boast at being able to look after your SEO needs these days.
The awful truth is, most of them outsource this important work to questionable search engine companies so they can make some fast and easy money.
This often leaves the client more than frustrated with the lack of SEO results and movement up the search rankings.
In most cases we come across very little useful SEO work has actually been completed, however an awful lot of money has changed hands – wasted money in most cases.
W

hat we do is slightly different.
At ROARLocal our aim isn't to get you on the first page of Google.
No, our aim is to get you into one of the top three places on the first page of Google for your chosen keywords.
Why are top three position rankings on the first page SO important?
Because that's where all the traffic is!….and where all the money is.
In fact new findings from online advert network Chitika confirm it's anything but lonely at the top of Google.
According to the study, the top listing in Google's organic search results receives 33 percent of the traffic, compared to 18 percent for the second position, and the traffic only decreases from there on down:
Click here to read more on the Chickita study.
The Diagram Below Shows The Percentage Of Traffic By Google Results Position
Notice that the top 3 positions in Google account for receiving 52% of the traffic – that's why we want to put your company in one of those 3 positions – because that's where all the money is!
All the SEO work ROAR Local conducts is 100% done in-house by our two SEO strategists – Mike Oldroyd (Australia) and Matt Scott (UK).
We don't outsource any of our work to foreign SEO companies as it's just too dangerous.
In fact, 75% of the SEO work we now undertake is to repair the damage done by these dodgy so called SEO experts who clearly didn't know what they were doing in the first place.
Ok, it's time to show you some real clients and some real SEO results
Below is an Aussie client we took on in December 2013. They now dominate the search results for the most highly searched for terms in their industry and are now crushing their competition.
Come on a journey with us now as we show you how we took their website from relative Google obscurity to the highest positions so they now hoover up all the very best and hottest leads and prospective customers.
In the below image see if your can you tell when we started to apply our SEO strategies and services to their website?
The image shows it was definitely early days for this small business on the road to SEO success, but we knew that if we applied our strategies over 3 or 4 more months we'd have them dominating Google for their search terms and making considerably more sales as a direct result.
Update Jan 2014 (Only 1 Month after we started work)….

Same client as above – Huge jumps in the Google searches are the norm for ROARLocal clients once Matt and Mike start applying their SEO Awesome Sauce.
They're certainly not always easy to create or engineer…..but Matt and Mike know what they're doing.
It takes A LOT of work to engineer the results like the ones in the below image and make the leap from nowhere in Google to position #12.
We did spend the next couple of months helping this client to slowly climb Google from position #12 until we got them into one of the top three positions as you'll see if you continue reading:[spacer]
Update end of Feb 2014 (3 months after starting work!!!)

Now commanding position #2 in Google Australia
This Melbourne Wedding Band business started their SEO program with us at the beginning of December 2013 and by the end of Feb 2014 they'd started to really dominate Google for a number of search terms.
They tripled the volume of people visiting their website and doubled the number of band bookings they were making….And they're leaving their competitors in the dust!
SEO has been a huge success for them and now brings them brand new potential customers 24 hours a day, 7 days a week.
How about the key term below that's searched for 480 times per month?
They're dominating Google:
And another!!!
So this company now has the following positions in Google:[spacer] 
Wedding Bands Melbourne = Position #2

Melbourne Wedding Bands = Position #1

Melbourne Wedding Band = Position #1
If you want to dominate Google just like this make sure your SEO company has the smarts to do it.[spacer]
Update Dec 2015
Having totally dominated the Melbourne Wedding Band search results, Blue Avenue have now ventured into the Sydney market for the first time – and their choice of SEO partner to get them there? – ROARLocal of course.
Here they are breaking onto the first page of Google:
Here's what Anthony of Blue Avenue had to say about opening up this new market and revue stream for him….
---
Here's another Melbourne company that's started to dominate Google and has doubled their sales and profits.
This company started their SEO program with us in January 2014. It only took us a month or so to get them the #1 spot in Google for their first website!
Here's a December 2015 update on just how we're tracking – well, we've improved things significantly.
Instead of just having 1 position on the first page of Google, my client now commands 6 positions. That's right! 6 positions out of the first 10 positions on the first page of Google are now dominated by my clients websites.
Do you think they get many course bookings because of this? – Well, their courses are always sold out. They have to turn people away they're that busy!
Wouldn't you like to be in a position like that?
You can if you dominate Google like this:
We helped them dominate Google with their first website. So they asked us to help out with their second website….and we did the same thing.
June 2015 update – their 3rd website is now #1 in Google !!!!
July 2015 update – Roar Local ranks their 4th website #1 in Google !!!
August 2015 update

– Roar Local ranks their 5th website #1 in Google
It just doesn't get any better than this!![spacer]
JULY 2016 UPDATE

– Roar Local ranks their 6th website #1 in Google!!!!!
That's SIX websites and SIX #1 positions in Google, which isn't a bad strike rate….even if we do say so ourselves.
Do you think this business owner is happy?….Well, he kindly keeps recommending me and our SEO services to pretty much anyone who is after SEO:
---
Would you like even more proof that we deliver for our customers and can rank them highly in the search engines?
Justin Rampono of The Currency Shop was sceptical RoarLocal could rank his site against such BIG competition…but we did it.
Justin now has over 500+ #1 Google Australia keywords ranked.
>>> If you don't believe us, email me, and I'll send you the spreadsheet of keywords and you can check them for yourself as proof that we deliver the best SEO results for our clients – email me now!! mike@roarlcoal.com.au <<<
Keyword = 'Best Currency Exchange Rates' – Number of monthly searches in Google Australia = 410
Keyword = 'Compare Currency Exchange Rates' – Number of monthly searches in Google Australia = 720
Keyword = 'Send money Overseas' – Number of monthly searches in Google Australia = 950
And there are over 500+ #1 Google rankings for this business that we've helped secure.
---
How about this New Zealand based Resume / Writing business – Now dominating their competitors and hoovering up all those ready to buy customers 24/7

---
This other Melbourne business is getting leads they never would have by commanding the top 2 positions in the Google search when people are searching for the services they provide.
---
This time a UK client for a VERY competitive key term – They're now #3 in Google and making a ton of extra money.
Actually strike that. As of Jan 2014 they hold the #2 position. They are very very happy with the SEO work we've done for them.
---
Another very competitive key term – now positioned at #1 in Google.
---
This time a client That started in November 2015! 
Here's the email they sent to me after only 4 weeks worth of our SEO work
A 20% increase in traffic in only 4 weeks – there are perhaps two, may be three SEO's in the whole of Australia that can perform at that level….We're one of them and you'll probably pay 10 x more for the others!!
Our prices are increasing soon as the word gets out that we deliver TOP results – get in touch with today to secure your spot with Australia's best kept SEO secret company.
---
Five Reasons Why You Need To Be In The Top 3 Positions In Google:
Because that's where all the traffic is! 
That's where all your potential customers are! 
75% of searchers never scroll past the 1st page!
3 out of 5 people choose a company in the first

FIVE

results!
HALF of searchers click on the TOP result!
Here are some more results for you from recent customers who are now ranking in Google and reaping the benefits – Until recently all of them were nowhere in Google and now they're all starting to rank well for the first time ever thanks to the SEO services by RoarLocal.
OMG SEO Strategies Catapult This Baby Hamper Supplier Up The Google Search Results:
SEO Bazinga! – Ranking The Doberman Puppy Business:
We don't want to boast, but the Doberman Dudes are kinda #1 in Google now, which is kinda a

BIG DEAL

for their business:
Making The Jump To SEO Lightspeed For This Melbourne Copywriter:
You could be doing the same as these businesses!
Check out this NZ Curriculum and Resume writing business.
Do you believe that dominating Google like this has increased the number of people calling and emailing them for their services?
Well it has, three fold!!!

How would you feel if you started getting three times the sales leads you currently get?
Click on the image to get a better look.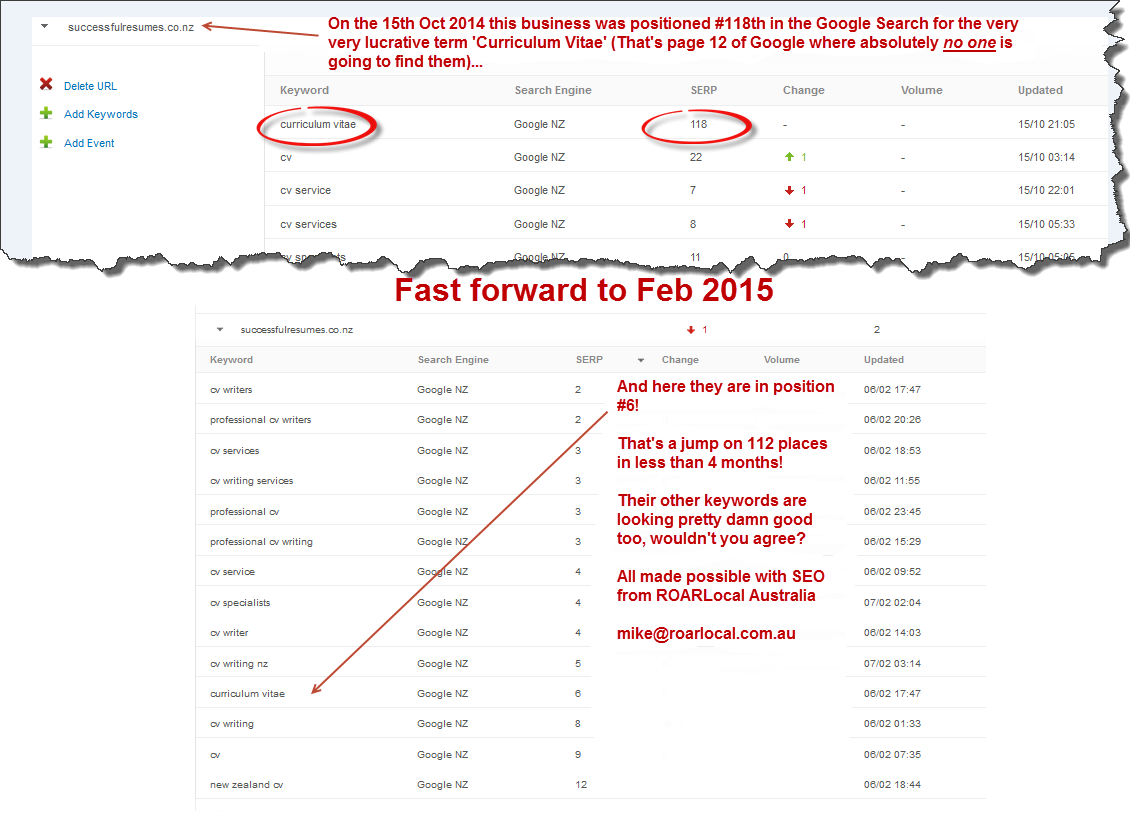 One last example – from this small business based in Auckland, NZ
Alba Locksmith's is run by my friend Sue and her husband Wayne in Auckland, New Zealand. It's a tiny operation. Wayne does the Locksmithing and Sue does the books and chases the late invoices.
They wanted to step things up, get more enquirers and simply make more money – what business owner wouldn't want that?.
They've recently gone from struggling to almost being overwhelmed with all the extra new business that's poring in.
Their goal for 2015 is to expand the operation and look to take on their first employees….and they may too just to keep up with the demand for their services!
Successful SEO is driving new leads to them, so much so, that it's now given them the power to compete and beat the established locksmith firms around them. They're taking on the big boys and they're not only winning…but they're thriving and now expanding their business!
I got this email from Suze (Sue Green) highlighting that the SEO work we've done is definitely working for them. They're getting new enquiries from their newly established rankings in Google and they're converting them into new business, sales and money in their back pocket!
Below you'll see that they're ranking #1 in Google NZ for an extremely profitable key word term.
Their competition are absolutely spewing that they've had their positions stolen by this upstart of a locksmith company!
Sue and Wayne are laughing all the way to the bank!
That's #1 in Google for the highly searched for key term 'Commercial Locksmiths' in Google NZ!
Or, how about the key term Mobile Key Cutting – from #15 in the Google rankings to #2 !
How to dominate the Google search results & bring a flood of new, ready to buy & highly targeted prospective customers to your website?
If you're even remotely interested in:[spacer]
• Dominating the Google search results for your industry.
• Rapidly & effortlessly attracting dozens, hundreds, or thousands of new customers or clients to your website on a weekly basis.
• Drawing to you the very people who are already looking to buy your product or service.
• Catching the attention of 'ready to buy' customers and getting them to contact you 24 hours a day, 7 days a week.
Then do get in touch with us today and get Australia's best kept SEO team on your side

We'll firstly conduct a full audit on your website, work out where it sits from an SEO point of view, do some initial keyword research and work out how tough the competition is going to be.
We can then arrange for a proposal to be written outlining the SEO work we'll do, the length of time and of course the investment involved for your bespoke SEO service so you dominate your competition and attract the lion's share of the people who are already predisposed to buy your products or services.
On this page you've seen how a number of businesses just like yours are now dominating Google and their competition.
They're taking all the best traffic from Google and they are cleaning up. They've got an almost unfair advantage – they've got ROARLocal SEO services working for them as their secret weapon.
With proof and results such as these, is it any wonder we're fast becoming the SEO go-to-guys here in Australia and New Zealand.
So get in touch today before your competitors hire us first.
Mike Oldroyd
mike@roarlocal.com.au
0432 522 448
P.S – we only work with one business from each industry niche.
If someone from your industry niche has already hired us then you are too late and we can't work for you.
So get us before your competitors do
I assure you that you want Matt & Mike working for you, rather than against you – REMEMBER – First in best dressed, so don't leave it to chance – get in touch with us today
Other testimonials from ROARLocal customers[spacer]

"$3 million in revenue from 1 event thanks to ROAR Local" Greg Secker – Learn to trade

Greg had a problem, Sir Richard Branson was booked as the keynote speaker at his Seminar with 4500 seats and no bookings, we set up all Greg's digital marketing strategy and implemented it for him.[spacer]

$10,000 profit for every $1000 I invest in ads!" – Kerwin Rae

"It's not often I find a team of people who do what they say they will do. So when Neil and Mike and their team approached me I thought they were full of hot air, how wrong I was! They set up my advertising online and now for every $1000 I spend on buying traffic I make $10,000 back, that's 1000% ROI"[spacer]

"Added £165,000 to Our Business" – John Wilkinson, Prontaprint

"We saw a 20% increase in sales that meant we had to employ a new member of staff to deal with it added £65,000 to our business, we're very happy."[spacer]

"Business Has Grown By 500%" – Sarah Leather – TheBabyMakingClub.com

"…the best investment in my business I have ever made. I don't think it is a coincidence that every level of my business has skyrocketed….grown by around 500%. I thought I was doing 'ok', but am now am very excited at what is actually happening and the incredible potential for the future.[spacer]

"We Now Make $1500 From Every Sales Email That Goes Out" Ian White – Amarya.co.uk

"One strategy they implemented captured over 8,000 email addresses. They then created the e-mail strategy which achieved an average of 21.2% open rate, a 19.7% click-through rate and a 10.7% buy rate from those click-throughs. At an average order rate of $40 I'm seeing almost $1,500 in sales every time i send a sales newsletter out (not every newsletter is a sales one…another tip they shared). Most importantly my overall 'repeat business' customers is amazingly high."[spacer]

"Ranked Page 1 Of Google in 3 weeks for a keyword that used to cost us $5000 per month." John Little – Successful Resumes of Australia

John Little runs Australia's most successful resume writing business with over 30 offices around Australia. John asked us to "double his traffic and reduce his costs, so, we did.